Buying a vehicle used to be about going dealership to dealership, spending 2-4 hours in the showroom, looking at and test driving cars just to move onto the next dealership and start all over again. The process of buying a vehicle used to take hours upon hours inside different dealerships just to find what you wanted, never mind finding a fair deal.
We're in a new age now. With the internet and everything digitally available to you on your cell phone, PC and/or tablet, you are just one click away from finding the vehicle you want at a fair price.
With Robert's Chrysler Dodge RAM Fiat and our "Express Purchase" program you can stop wasting time visiting multiple dealerships and find the right vehicle at a fair price in a few easy steps!!
Step 1 : Find The Vehicle That Fits Your Needs
Start Here. Check out our large selection of New, Pre-Owned and Certified Pre-Owned vehicles on the lot and coming in! Don't have what you want? Let us know, we want to help you find your dream vehicle!

Step 2 : Calculate Your Payment
The hardest part of the process is over, finding the right vehicle you for you. Time to calculate a payment that makes the most sense to you. You can find this right on the Vehicle Details Page of the vehicle you select.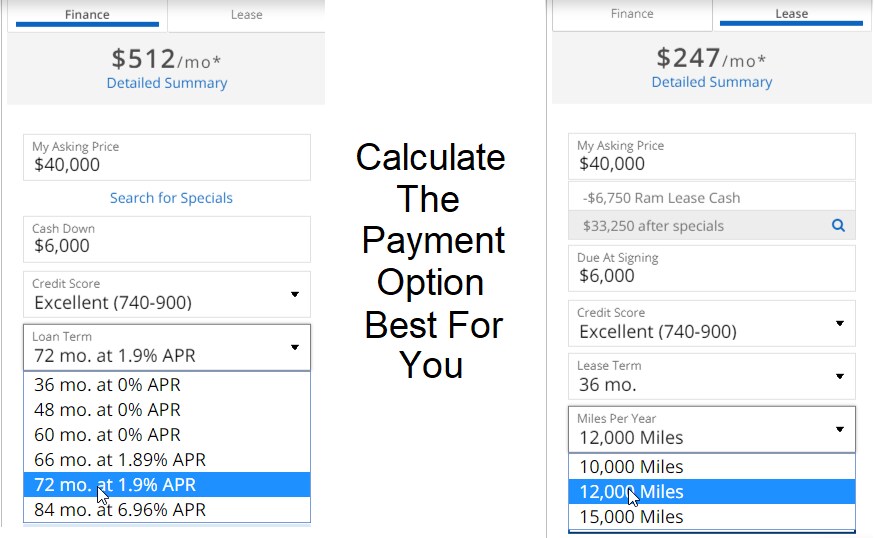 Step 3 : Get A Value For Your Trade-In
Now that you have found what you want, it is good to know the value of your current vehicle. Our up-to-date online tool offers you a range of the value of your vehicle pending the overall condition. This gives you the information you need and the leverage required to help find the most fair and aggressive offer for your purchase or lease needs!
Step 4 : Apply For Financing
Now that you have found the vehicle you want, at a payment plan that makes sense to you and valued your trade-in (if you have one), time to see what financing/leasing rates are available to you. Our buying power and the relationships we have made over the past 45+ years with both lenders in the immediate area (credit unions) and major lenders all over the US have given us access to some of the best rates available to you.
Step 5 : Submit Your Offer & Claim Your Vehicle
Stop wasting your time sitting in the dealership. You are now done with part or all of the process of buying a vehicle. Time to let us know where you stand and negotiate yourself a fair deal. This process has proven to work well for both our consumers and us. We are confident that this process will help provide you with the satisfaction of getting a vehicle from us here at Robert's Chrysler Dodge RAM Fiat.
Once a Customer, Always a Friend
Have a Question about the Express Purchase Program?
Hours
Monday

09:00AM - 07:00PM

Tuesday

09:00AM - 07:00PM

Wednesday

09:00AM - 07:00PM

Thursday

09:00AM - 07:00PM

Friday

09:00AM - 05:00PM

Saturday

09:00AM - 05:00PM

Sunday

Closed